Engagement Rings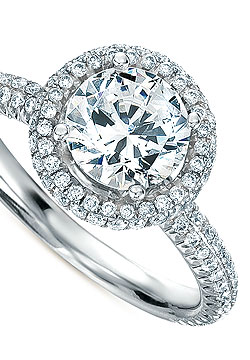 This is the ring that every girl waits for until from the moment they're a young child. The dream of the love of their life getting down on one knee and asking for forever. This is the ring that she'll show off to all of her friends, her family, and stare at every day for the rest of your lives remembering the day you got on one knee and proposed. It has to be special, spectacular, and she has to fall in love with the ring just as she fell in love with you.

There are many things to take in consideration when looking for an engagement ring-- color, clarity, shape, size, metal, and design. It all depends on what you're looking to spend and your future fiancée's style, taste, and design she loves.

There are few main style types for an engagement ring: three stone, micro pave, halo, vintage, solitaire, with fancy colored diamonds, and the precious gemstone. Within each of these style types you have the option of choosing from variety of shapes like princess, round, emerald, cushion, radiant, etc and metals that the gem will set in. You can choose how many carats of the diamonds, how the gem is raised on the setting, and so many other options. If it can be fantasized about in your bride-to-be's head, it can probably be found or designed!

Engagement ring shopping can be done alone, bringing friends or perhaps your fiancée-to-be herself. It's a great experience to look at various styles before selecting and also seeing the cut and clarity up close. Be sure to set a budget before purchasing a ring before heading to your jewelers or shopping online as it can be so easy to spend more than you intended with such a special purchase as this.
Find Inspiration For These Wedding Rings Category
Unable to select database