Bridals Makeup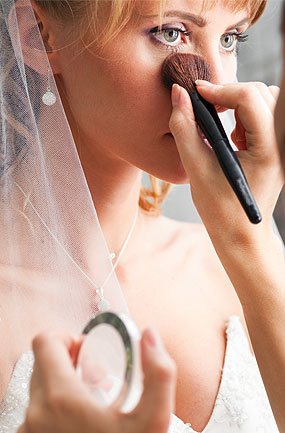 Your bridal beauty is so important on your wedding day-- not just because of the photographs or all eyes on you, but because you need to look and feel your very best too. You've picked your gown, accessories, had your hairstyle selected and all of the bridal details have been checked off your to-do list, but what about makeup?

Many brides are picky when it comes to their makeup on their wedding day. Some brides don't want any makeup and wish to remain as natural as possible, and if that's their usual day to day look, there's nothing wrong with that at all! Some brides look to go more glamorous on their wedding day, with smoky eyes and bold colors. Other brides wish to stick to neutral colors and earthy tones, intertwining their natural beauty with that of a makeup color palette.

Some brides opt to do their makeup themselves while others hire someone to apply it professionals. Some choose to have their family members or bridesmaids apply it while getting ready and others choose to have their makeup airbrushed or professionally airbrushed on. Regardless of what style or type of makeup or kind you use, be sure to do a trial run of your makeup so there aren't any surprises or set backs not the big day.

There is no right or wrong way to have your makeup on your wedding day, as long as you look and feel your very best.
Find Inspiration For These Bridals Makeup Category
Unable to select database