Wedding Shoes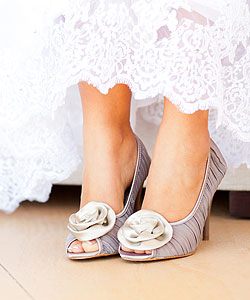 A fashion accessory that is the "icing on the cake" regardless of the style, ensemble, place, or time is footwear. A show can decide and determine an entire outfit, so of course it would make sense that the footwear decided on for you and your bridesmaids should be one that fits beautifully with your wedding, your style as a bride, and the dress (or bridesmaid dresses) that you've chosen.

There are various shoe designs this season for weddings and all things bridal . Some brides prefer the comfortability of the low heel, some brides prefer to not have any height added on their wedding day (perhaps they're too tall!?) and others prefer to make a statement with a higher heel or open toed heel. It depends on your preference, your height, and what you'll be wearing on your wedding day.

Choose a shoe style that best suits you. One might choose a white or ivory color heel and another bride may choose to have their shoes dyed so that it can match better and provide a pop of color to their wedding party. Many designers already have collections already designed for the bride in mind; collections such as Vera Wang, David's Bridal, Kate Spade, and Calvin Klein. These bridal collections not only offer the traditional white, ivory, or diamond white but also offer various colors to make your bridal style pop with a shoe color and style that will turn heads on your wedding day.

Your wedding fashion budget, your style, and your shoe comfortability are all factors that will determine the right footwear on your wedding day. Take your time in deciding what goes best with your gown and what you're looking to wear; remember, if all else fails, you can wear more than one pair throughout the evening!
Find Inspiration For These Bridal Shoes Category
Unable to select database