Wedding Dress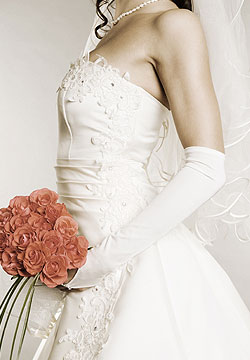 Choosing your wedding dress is probably one of the most exciting parts of wedding planning. Everyone is excited to see you walk down the aisle in a dress that best fits you and looks best on you. There can be a lot of pressure when choosing the perfect dress, but once you find THE dress, you'll be so happy that this task is checked off your task list.

Before going to any bridal boutique, make sure that you have a set budget before arriving. If you don't do this, you'll find ten different dresses all that you adore but can't afford. Set a price that you're willing to spend and do not go above it. Remember that you'll need to also purchase shoes, accessories, veil, etc. so keep this all in mind before purchasing.

Be sure to bring along a friend or family member (or more!) to your wedding gown shopping. Take people who you know will support you and guide you, be honest with you as you find the best dress that matches your style, personality, and body type.

Do your research before going wedding dress shopping! You will not want to be overwhelmed on your special day, so be sure that you have a general idea of what you want, your budget, and any specific details such as fabric, a train, neckline, etc. The more you know going into it, the easiest it'll be in selecting from hundreds of the gowns. Enjoy the shopping trip, and here's hoping you'll say YES to the dress!
Find Inspiration For These Wedding Dress Category
Unable to select database