Wedding Proposal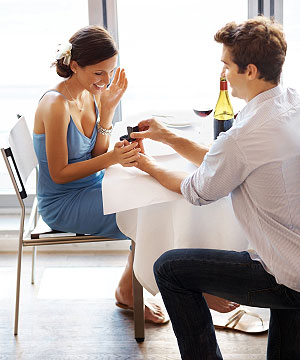 Before the wedding, before the honeymoon, before your new life together comes one thing that she'll remember forever- the proposal! This is about to be one of the best days of her life, and it's a story that she will tell to all of her family and friends, and remember for days, years, generations to come.

Planning the perfect proposal takes work and planning ahead of time. Women like well thought out and crafted proposals as it's usually the most romantic and thoughtful.

First things first: get the ring! We have plenty of advice and guides on choosing the perfect ring for your future fiance, but pick a price range, style, setting, clarity, and design. When you feel that you're ready to propose, decide if this is something you should discuss with her father as it's traditional and proper measure to do so beforehand. If you feel this isn't needed before, then make sure you have the blessing of her best friends, sister, or other parent. This is just a sign of respect and honorable of intentions, regardless of how old you are.

Your next step is to carefully plan the proposal based on what type of personality she has and her style-- example: is she shy or outgoing? Would she want something out in the open and loud or quiet, intimate, and simple? Be sure you have it recorded or pictures snapped if she's a woman that loves to capture memories.

Remember not to rush something like this, and to enjoy the moment when it does happen. This is a once in a lifetime love, bask in it and enjoy the perfect moment when you get down on one knee.